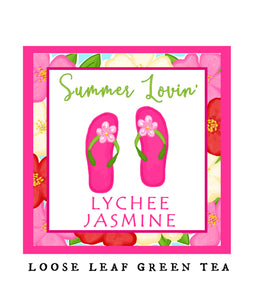 Lychee Jasmine
Regular price $ 6.75 Sale
Lychee Jasmine Green Tea  
A dreamy blend of smooth green tea with heady exotic jasmine flowers and sweet juicy lychee fruit to enjoy on those hot summer days. Refreshing and delicious served on ice.
Ingredients:  Green tea, jasmine flowers, *natural flavors.  *Organic compliant

Serve Hot or Iced 
For hot tea: Place 1 rounded teaspoon of loose tea in strainer.  Pour 8 oz. freshly boiled (then cooled to 194F degrees) water over tea. Steep for 3 - 5 minutes.  Sweeten to taste.
For iced tea: Use twice as much tea and steep twice as long.  Strain, sweeten to taste. Pour over ice and stir briskly.  Add additional ice. 
Contains Caffeine