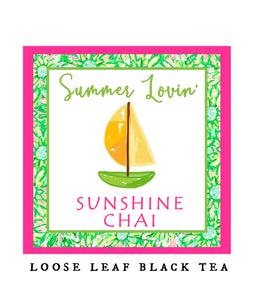 Sunshine Chai
Regular price $ 6.75 Sale
Sunshine Chai
A robust high-grown organic Assam black tea with a medley of soothing classic chai spices and a touch of bright sunny orange.  It's full flavored and fragrant with a deliciously smooth malty and smooth finish. A warm cup of sunshine! Delicious both hot and iced!
Ingredients: *black tea, *cinnamon, *cloves, *cardamom, *orange peel, *star anise, *natural flavor. 
*Organic
Brewing Instructions:
Hot tea:  Place 1 rounded teaspoon of loose tea in strainer. Pour 8 oz. boiling water over tea. Steep 3-5 minutes or longer.  Sip and enjoy!
For Iced tea:  Use twice the amount of tea and steep twice as long.  Strain and pour over ice.  Sweeten to taste.
Contains caffeine