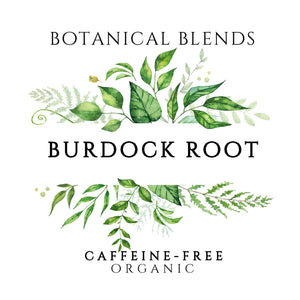 Burdock Root
Regular price $ 6.00 Sale
Burdock Root *organic*
Burdock root tea is a unique and mild herbal tea. It produces a strong, distinct aroma with a mildly peppery flavor and is mildly stimulating. Burdock is known for its wide variety of health benefits.  It's been used for centuries as a blood purifier, mild diuretic, and digestive treatment. Burdock root contains multiple vitamins, minerals, antioxidants, and antifungal properties.
Ingredients: *burdock root
*Organic
Brewing Instructions:
Serve Hot- Place 1 rounded teaspoon of loose tea in strainer. Pour 8 oz. boiling water over tea. Steep 3-5 minutes. Sip and enjoy!
**Note: Burdock is best to be avoided during pregnancy.**