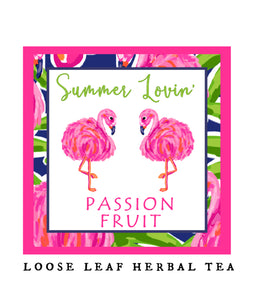 Passionfruit
Regular price $ 6.75 Sale
Passionfruit Herbal Tea 
Exotic passionfruit captures you at the first sip. Luscious flowers mingling with sweet fruits add another flavorful dimension to this divine thirst-quenching nectar.  Enjoy any time of day all year long!
Ingredients:  apple pieces, hibiscus, rosehips, papaya pieces, strawberry leaves, pomegranate pieces, cornflower, passion flower, *natural flavors.  *Organic compliant.

Serve Hot or Iced 
For hot tea:  Steep 1 rounded teaspoon of loose tea 8 oz. freshly boiled water for 3 - 5 minutes.  Strain. Sweeten to taste.
For iced tea: Use twice as much tea and steep twice as long.  Strain, sweeten to taste.  Let cool.  Pour over ice. 
Caffeine - Free