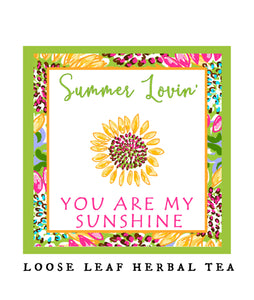 You Are My Sunshine
Regular price $ 5.20 Sale
You Are My Sunshine Herbal Tea Blend - Caffeine-Free!
Oh the sweet tropical taste of pineapple, orange and mango to bring sunshine to your day and make you happy when skies are grey.  Excellent refreshment served on ice.  
Ingredients: pineapple, apple, orange & mango pieces, rose hips, hibiscus, rose petals, natural flavor. 
Serve Hot or Iced:

Serve Hot- Steep 1 rounded teaspoon loose tea in 8 oz. of freshly boiled water for 3-7 minutes.  Strain.  Sweeten to taste.  Sip and enjoy!
Serve Cold- Use twice the amount of tea & steep twice as long.  Strain, sweeten to taste, then let cool.  Pour over ice and enjoy!
Caffeine-free